20 of my most recent favorite cakes
One question I am asked all the time is "What's your favorite cake you've ever made?" It stumps me every time because I love all my cakes… like as much as I love my pets (and sometimes more).
Here are my top 20 favorite cakes over the last little while.
This was a cake I made for a wedding in September. It was located at Roma Hall in New Westminster and it was made for a fantastic couple. I love it because it's a great combination of traditional and modern. The lace pattern was definitely a lot of work but I was so happy with how this one turned out.
My friend Anthony (aka DJ Physik) is a poker junkie. He recently participated in the World Series Of Poker in Las Vegas. When he plays, he always uses a little Tokidoki unicorn or whatever that thing is to "protect" his chips and cards. I made a cake for him to bring it all together. He loved it and so did I!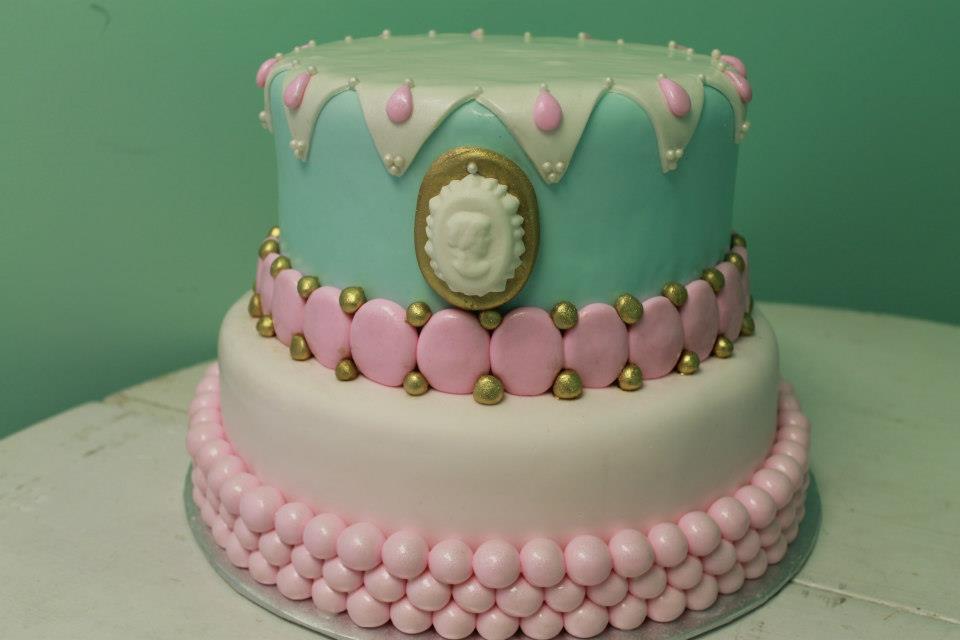 The color combination, the cameo, the hint of gold, the elegance. Talk about my dream cake! This cake design has inspired me to make a beautiful vintage winter window display for my bakery. Say that 3 times fast. Stay tuned for pictures in the next coming months.
Obviously! These cupcakes helped me meet the one and only Snoop! What an awesome experience.
This was my second "life-size" dog cake. These are the times when I love my airbrush. I would have not been able to get him to look like that without it. And check out the blinged out collar! I'd like to make a pug, or a bulldog next. I want to recreate those wrinkled faces!
Yes I know, super simple right? But I just love it! Maybe it's the rocker in me that likes the skull design so much. I'll tell ya… any 4 year old girl who wants this as her birthday cake is pretty damn rad in my books!
Who doesn't love the art of Dr. Seuss? Being able to recreate his images into cake form is really something special. I grew up on his books so I look forward to every order like this that I get.
I think what I love most about this cake is the color combination. There's something about teal and red together that is so appealing to me. And of course the sock monkey is just adorable too!
This cake was made for a company who has a summer picnic every year. This was their first time ordering a custom cake for their event and man were they ever pleased. Although the details were tiny and tedious, it's cakes like these where I take a step back when I'm finished and think "F#*$ YA!"
To be honest, if I got a birthday cake like this when I was younger I would have probably asked my dad "Where can I smash in my Ninja Turtle?". To see the look on those little girls faces when I deliver it though totally makes my day. I used a pattered mat to roll over the fondant to get the texture in the bows, and a pillowed texture guide for the sides of the cake. I may be helping in creating some future divas by making cakes like these, but I love them!
Now these are my kind of cupcakes! Not only did I get to personally deliver them to Kat Von D, but I had a blast making them as well.
I think this is another example of me just loving the color combination. This was such a unique design for a wedding cake. The combination of fresh flowers and the ribbon trim added the perfect touch to such a vibrant colored cake.
This order was made for a bridal shower. I love the tea party feel to it. The pastel colors with hints of gold and silver looked fabulous together.
These cupcakes were a surprise gift for a doggy daycare center from a very happy customer. Making each little dude was super fun. Being a basset owner myself, I had to throw one of those guys in the mix. The daycare staff loved them!
Baby gender reveal cakes! SO FUN!! The couple goes to their doctor and has the baby's sex passed to them in a closed envelope which they immediately bring to me. I dye the cake inside either pink or blue depending on what they're having. Then, they get together with their family and experience the big reveal together. I think the gender reveal cake is the best way to go if you're planning on finding out the sex of your baby before it's born.
Another simple design, but one that I adore. The diamond ribbon trim is the perfect way to bring a little bling into such a simple design. This cake looked beautiful at it's destination. The newlyweds were very pleased.
This was a cake that I made for the crew over at Real Weddings Magazine. The pop of bright color against the fresh white fondant is really what I love most about this cake.
Talk about a milestone! What an opportunity for me to make such a special birthday cake. The design here is simple and elegant which I think was perfect for the celebration.
Possibly my favorite wedding cake to date. This was the wedding cake for the same bride as the bridal shower cake above. Unfortunately, the lighting was not fabulous at the venue but you can totally see why it's my fave! This 1920′s Marie Antoinette design is now my new favorite cake to make. There are so many possibilities when it comes to designing a cake like this and the delicate colors can be made in any combination. These cakes will never get old to me.
So there you have it folks. It's obvious that I can't just pick one favorite. I have a favorite part about every cake, whether it be the design or the story behind it.
Here's to many more!