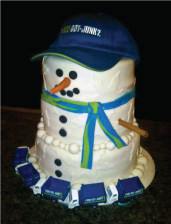 Sheila -

Thanks again for the cake you made for our 1-800-GOT-JUNK? Christmas party! It was the best snowman I have ever tasted! ;)

The cake was awesome... I had no idea someone could make a cake that had so many little details and could be SO delicious! It was the talk of the party!

Thanks again!
Brian Scudamore, Founder and CEO of 1-800-GOT-JUNK?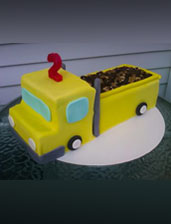 I was totally excited that Sheila was able to make this beautiful, yet healthy cake for my son's 2nd birthday. She amazed me with her talent when I asked for a truck cake... it turned out absolutely wonderful and tasted fabulous. My son, Arlo was so stoked!

I will be buying many future cakes from this talented young lady!

Thanks again Sheila, you are truly fabulous!
Jo and Arlo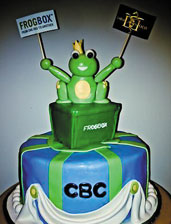 Sheila, I want to personally thank you and Pink Ribbon Bakery for helping to make our FROGBOX / Dragons Den premier party a huge success. People are still talking about the cool Frog cake you made. Not only was it pretty to look at but it tasted awesome.

I especially appreciate you being able to work with me over the phone and email given my proximity. Your creativity and willingness to go the extra mile for this project was extremely helpful and much appreciated. I can't wait to find another excuse to use Pink Ribbon Bakery again.

Keep up the great work
Jeff Hill - FROGBOX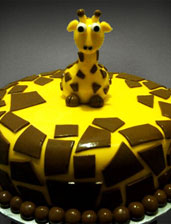 Hi Sheila

Thank you so much for the giraffe cake - he was perfect, and we had a great day! How special.

We will definetely pass your name along, and use you in the future.

Cheers.

Robin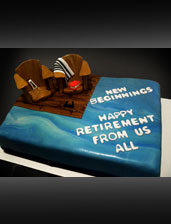 Hi Sheila,

I had this most marvelous cake presented to me this morning, with a wonderful depiction of an idyllic retirement life. While chairs on a wharf, with book and sunscreen in hand, appears awfully serene, I assure you my style is (usually) far more active than that.

Sheila, it was awesome, and I wanted to thank you personally for such a lovely cake. I also thanked Kathy and Kea for the inspiration to create it in the first place, but the artistry that created it was amazing and greatly appreciated. Several photos were taken before the horde devoured it. I kept the chairs. Absolutely brilliant.

Many thanks

Bob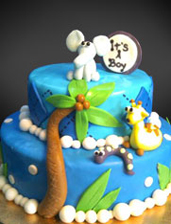 Thanks so much Sheila for making my friend's baby shower cake! Everyone at the shower was oohing and awwing at your work, and loved every bite of it! There was also way more cake than we needed, so the mommy-to-be got to take home HALF!! The chocolate cake was delicious...I might have to order another cake just for me :)
Romi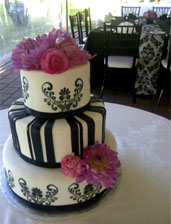 Hi Sheila,

Just wanted to thank you again for the amazing cake! It was beautiful and delicious! And we will definitely recommend you to all. Good luck with your business and will be sure to contact you for any future needs!

Thanks again!
Mel and Neil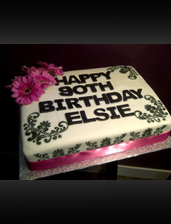 Dear Sheila,

I only saw you for a moment on Saturday Sept. 17, but I must tell you that your cake was absolutely beautiful. It was not only beautiful, it was also very delicious. It was the most moist and delicious cake we have had in a long time. We had numerous comments on the cake and the caterer took your name possibly for future use. Mandy will be tagging you on her facebook. Thank you again - your cake was AWESOME!!!!!!
Mona Robinson